James V. McKinney
President, CEO
Jim brings more than 25 years of senior leadership in strategic planning, economic development, national security and analysis expertise to Apple Mountain. In 2013, he completed a successful  career as a Foreign Area Officer for the Department of Defense, serving in numerous US Embassies and in major US military commands in Europe, Asia and the Middle East. Jim was responsible for management of over $100 mil in development and humanitarian programs, created nation building plans for newly independent countries following the collapse of communism, and designed education and training exchange programs for host country military and civilian staff. After retirement, Jim began consulting in South Carolina, assisting the SC Council on Competitiveness to develop a state-wide business plan in conjunction with the State Chamber of Commerce and helped create the framework for TransformSC, an initiative that is re-shaping K-12 education in South Carolina. He is a graduate of California State University Sacramento with a Bachelor's degree in Government, a M.A. from the University of Washington in International Security Studies (REECAS,) and a graduate of numerous leadership and strategic planning programs.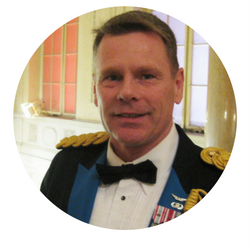 Laura L. McKinney
Consultant for Strategic Planning and Communications
Laura McKinney brings over 20 years of economic development, public relations and communications experience to Apple Mountain. She began her economic development career abroad as the founding Executive Director for the American Chamber of Commerce in Tallinn, Estonia. Working closely with the US Embassy in Estonia, Laura was introduced to the Diplomatic Corps of the U.S. Department of State and joined the Foreign Service in 1999. She served as a Public Affairs Officer in Tbilisi, Georgia and as the Vice Consul in Vancouver, British Columbia. Laura traveled extensively with her family in support of her husband Jim's military career to Leavenworth, Kansas; Tirana, Albania; Honolulu, Hawaii; and to Ljubljana, Slovenia where she again supported U.S. national interests through public relations for the US Embassy. As the Executive Director of New Carolina - SC Council on Competitiveness, Laura reinvigorated the statewide economic development organization with successful grant awards to develop industry clusters and the development of a statewide education initiative to redesign the public school system which included state legislators, the education community and business leaders. After moving back to Blaine, Laura conducted and implemented a strategic communications plan for an international non-profit. Laura is a graduate of the University of Virginia. Laura and Jim live in Blaine and have 5 wonderful and active children.